(Sorry for the terrible video quality.)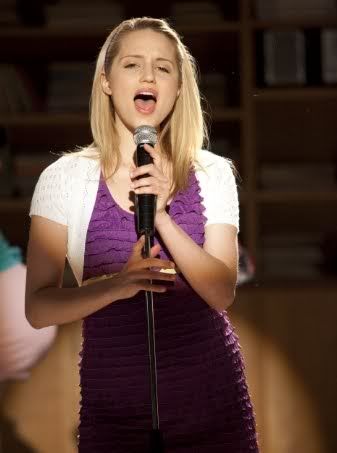 Okay, let me get this straight. If Terri had ever sung one song, she'd be here. Quinn is alright. But not my favourite, and she sure has had her irritaring moments in the past. And with the plain storyline this season and most of all the cutesy Barbie/Ken relationship she's currently engaged to, she's earned her place here.
BUT, she's also here because she once sung this great song! Dianna Agron's voice is not my favourite, and she normally just uses it in a very boring way, singing cute little songs like Lucky and Say a Little Prayer and that's just blah to me. In
It's a Man's Man's Man's World
she goes a bit more rough with that voice and it actually sounds very very nice. Plus, it's a great scene and a great message and the little feminist in me is going all 'Hear, hear!'... So for this once, I'll forgive her for being so cutesy.
(I'm just all the time expecting one of the fake tummys to fall out... A bit distracting.)