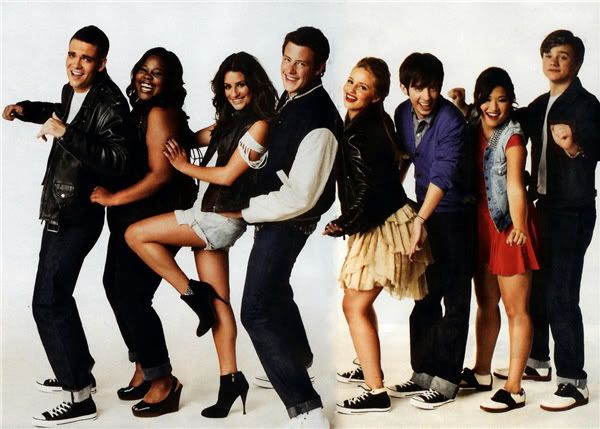 It's been
on the news
for a few days now: the Glee cast we've grown to love and adore is graduating and moving on in 2012. Now I know why the Mayas predicted the apocalypse... Okay, fine, like the article says, it was bound to happen eventually. Some of the actors (Cory Monteith/Finn and Mark Salling/Puck) are already a decade older that the characters they are playing. And high school never lasts forever. So we knew this was coming. It's just a bit terrible to get an actual date and a confirmation for it.
Furthermore, the series creator Ryan Murphy has stated that Glee will get the 'Skins' treatment. Meaning, a new group of high schoolers will keep replacing the ones graduating untill... well, untill the ratings drop low enough. The up side is: More Glee! YAY! The down side is: Glee! Without Kurt? Without Finn? Without Brittany? NAY! GOOD GOD NAY!
In theory, it could work, of course. It would take some damn good writing and some damn interesting characters and some damn likable and talented actors, but there is a small chance that they could pull it off. They'd have to come up with totally new kind of characters and not just recreate a Rachel after another. Sam is apparently the first character of the new generation, so so far they haven't done a very good job... But I'm not giving up on them, not yet. The good news is, teachers won't graduate, so we'll very likely keep getting our weekly proportions of Sue Sylvester and Mr. Schue.
And yet, no matter how good the writing and the new characters might be, it won't be the same. I'm already getting minor panic attacks, as I think about having to say goodbye to the good old gang... So, I refuse to be aware of the fact that 2012 is inevitably near and just concentrate on waiting for the next week's Christmas episode. (They've already published one scene as
a sneak peak
. I've watched the video about 200 times now. It's only the most adorable thing ever.)