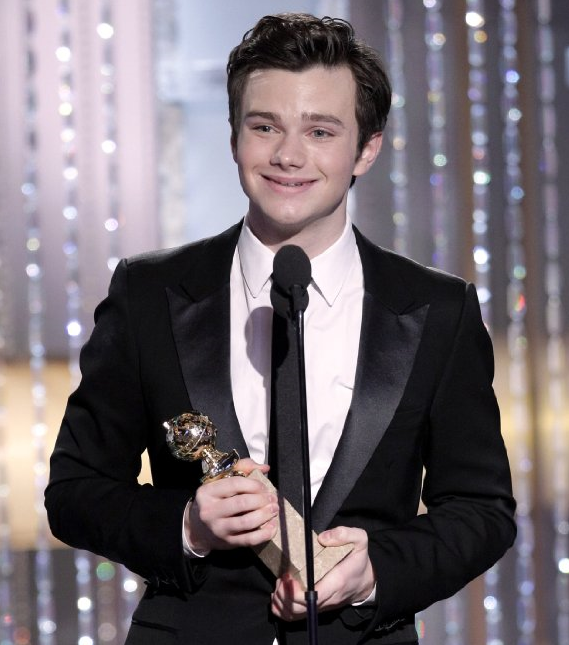 This morning, as I was on my way to the university I remembered that the results of the Golden Globes were now out and suddenly felt totally awake and walked faster for the rest of the way. As soon as I got the computer on and the list of winners in front of me, I scrolled down, down, down, all the way to Best Performance by an Actor in a Supporting Role in a Series, Mini-Series or Motion Picture Made for Television... and Chris Colfer it was. Beforehand I'd planned that if he really happened to win, I'd keep it calm and very cool, because my reactions for things like this are often very dorky, and there were other people in the room, too. Oh well, as you can imagine, I threw the plans to the wind and was very dorky. My friends gave me that specific what's-up-with-her look, but oh well, I don't mind, Chris won. He freaking WON!
I almost cried as I watched the acceptance speech. Oh man, I love him, and he so entirely deserves all of this, and more. You go, Chris. And "screw that, kids".
Also, I'm not going to ignore Jane Lynch's win, of course. She's awesome and Sue is awesome and she had it coming. Oh and Glee won, too. Tiny little detail.... No, really, this is spectacular! Lea Michele and Matthew Morrison were left empty-handed, but I can't imagine them being too sour about it.
Oh, the glee... I've been in abnormally high spirits today, considering that it's Monday and my tooth aches, which can mean only one thing: dentist. (Hope I'll get someone as hot as Carl...!)