Will Schuester, played my Matthew Morrison, is a Spanish teacher in the McKinley High, who one day decides to pull Glee club out of the depths and restore its former glory. And that's where we get a TV show! Will used to have a very freaky wife, but luckily she faked a pregnancy which gave him a good reason for a divorce. Once he dated Holly Holiday, but that didn't go anywhere (because Gwyneth has much more important things to do than gueststar on TV shows). He has a crush on Emma, the school's guidance cousellor, who for a while was married to a hot dentist, but is now available again. Go for it, Schuester! Okay, not yet. But they'll get together in the end. It's an inevitability. Also, I'll throw one hell of a tantrum if they don't.

Mr. Schue is the coolest, most awesome teacher one could imagine. He genuinely cares about his students, and wants them to feel special the way they are. He has a curly hair and he wears a lot of vests, as he is constantly reminded by Sue Sylvester, with whom Mr. Schue more than often finds himself debating about educational methods or just generally arguing. He is of course loved and respected by his gleeclubbers, even though they don't always see eye to eye. Most conflicts are caused by artictic differences, in other words, the music. Will likes Journey and disco. The kids like stuff a bit more modern.

As awesome and right-minded and empathetic Will Schuester is, he also has had his share of embarrasments and inappropriate situations, when he crosses the line. Usually they have to do with his efforts to win Emma over, like in season 2 when he performs a provocatively sexy Britney Spears number with the club, and insists that they do Rocky Horror Picture Show as the school musical. Oh and that time he drunk dialed to her was a very proud moment, too. I enjoy those moments pretty much every time, because it's just so fun to see how desperation drives him to make a great big fool out of himself. That's not the way to get Emma, Will, darling. But you will, eventually. (RIGHT??)

I can't say Will has ever been one of my favourite charaters, but he's such an essential part of the show, it wouldn't be the same without him. Matthew Morrison fits the role perferctly. And that butt chin really is quite cute.


My favourite Will song is still
Over The Rainbow
, but Dream On is awesome, too. It's like a life and death situation, and he sings accordingly. Neil Patrick Harris is of course a nice add to the song.
The Don't Stand So Close To Me/Young Girl mash-up is pretty hilarious. Will should've known better, really. A school girl has a crush on you, and you try to get your point across by singing? Smart move, yeah. I love the reactions of his audience. Especially Emma's slo-mo flapping of the eyes. Haha.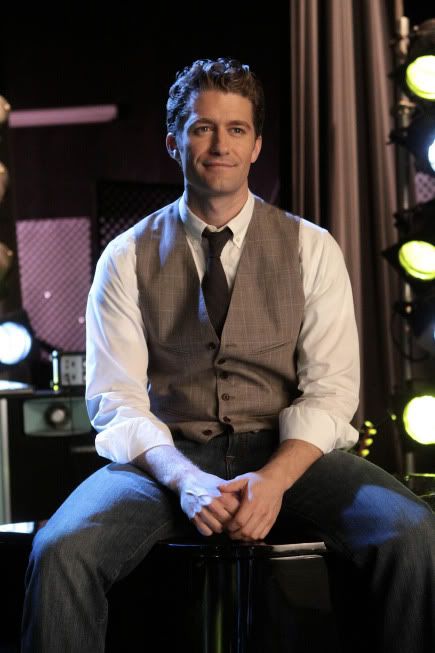 "Kids don't like it when I rap?"
"I love you, Emma. And you love me. Dentist or no, this thing isn't over between us."
"Everyone loves disco!"
"Glee club... it's about expressing yourself to yourself."
"Good news everyone! I found a Journey song we haven't yet made!"