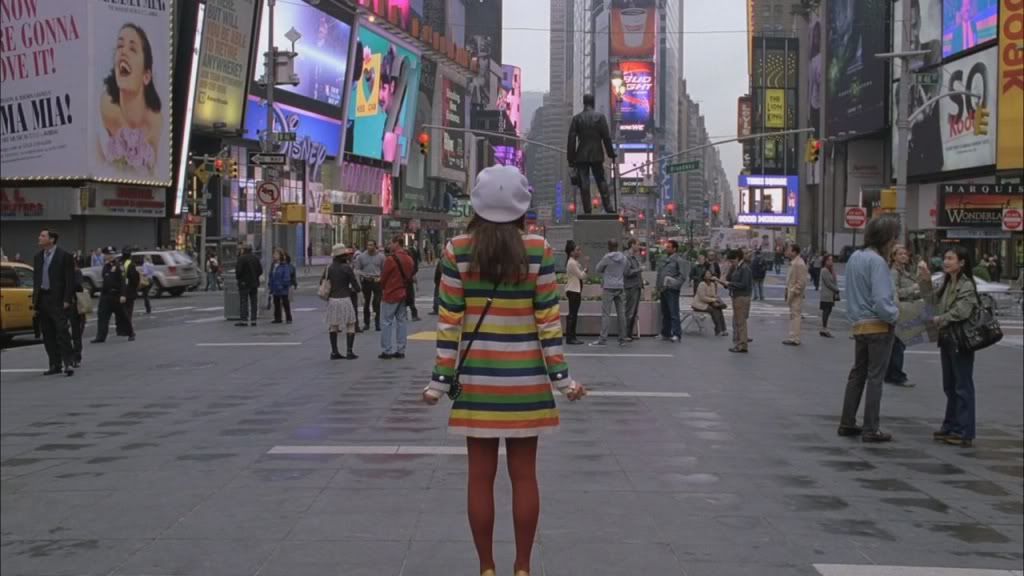 Season two - it's a wrap! It's been a bumpy ride, and it finished accordingly. New York was only decent as an episode; nothing like season one's epic, touching, heartfelt, thoroughly wonderful finale, geez, you can't even start comparing the two because it's too embarrassing for the writers of the show. I liked the New Directions' Nationals performances the least of all the competition performances they've had so far - seriously, just give up the original songs, they don't work like covers do. New York looked awesome (and I'm so pumped I get to go there this autumn!), and it's an awesome setting but it took away too much from the story. The episode wasn't very coherent; mostly just random, New York -related scenes one after the other, and I felt that while they were so hard trying make every second in New York count, it caused messy and hurried storylines, and almost made it all go to waste.
ANYWAY. Even if I'm a bit disappointed, I short of could see this coming, and it was still an okay episode. The last minutes kind of saved it for me. Haha, right after they returned to McKinley everything was awesome again! Who needs New York when you've got Lima, Ohio! I think I'll change my travel plans! Haha. No.
That's just the initial reaction from the top of my head. Now, time has passed and I rewatched the episode and I don't loathe it quite as much as I first did. Still, it's an undeniably and crushingly disappointing episode compared to last season's finale. Blah!
More individual things I didn't like:
- The irrationality of the whole Let's-write-our-songs-in-New-York scenario. For god's sake, they're getting so close to their dream of winning Nationals and they decide to leave all the preparation to the few days just before the competition?? Come ON! And Will says they can only afford two rooms, but still they can afford spending a couple of extra days there. I mean, yeah, I get that the writers wanted them to spend some time in NY, but still, it's infuriatingly ridiculous. ARGH.
- Quinn knows that Cats doesn't run anymore, but Rachel doesn't. Excuse me, who's the lifelong Broadway freak again?? GEEZ, what's wrong with the writers...
- The cheesy and horrible jokes, like Rachel's credit card and the butt crack, and Mercedes's Old York/New York. They're so not funny I almost feel like crying...
- Will's boring Broadway storyline ended accordingly... and in a horribly cheesy way, as a dude comes to him while he's singing and says he knows so much about the talent and Will's got it. That was maybe the most clichee moment in the history of Glee, I wanted to throw up... Soon Will remembers that he likes his kids so he doesn't choose Broadway. Yay, aww and all that jazz or whatever.
- The Finchel 'work date' that was too much like a bad romcom. Yeah, the parallels were intended, I'm sure, and I might have liked the scenes, if I wasn't so anti-Finchel.
- The whole 'career or love' spectacle didn't get me very fired up. Mostly because I knew Rachel would crawl back to Finn anyway.
- The awkward and cheesy Rachel/Sunshine interaction in the bathroom. The girl can't act. The smaller one, I mean. Lea is fine.
- That stupid spontanious kiss. Which I saw coming all the way. I don't know if that was supposed to be a climax moment or something.
- The ah-so-wonderfully-happy-and-sweet Finchel reunion in the library. Hnnnnnnnnnngh. I'm so sick of them. Hope they break up again soon.
I don't think I've even bashed a Glee episode so thoroughly before, but come on, it deserved it. Still, you can find some things I DID like below. Becauce, believe it or not, there were such things. (And I did tone it down a bit. You should've seen the first notes I'd made earlier. That was quite harsh.)
Things I (hallelujah!) did like:
+ The ND singalong on Time Square. New York, New York...
+ Sam, after Puck refers to NY as the city of love, mouth full of chips: "I thought that was Paris."
+ When Kurt wakes Rachel up, she wipes drool off her face.
+ Breakfast at Tiffany's! Although I hated that movie.
+ My favourite scenes in the episode, part 1: Santana, Quinn and Brittany in the hotel room. Quinn is feeling a bit down and lonely. "I just want somebody to love me." Santana: "I think I know how to make you feel better." Quinn: "I'm flattered, Santana, but I'm really not that into that." Haha. And aww. Santana was only talking about a new haircut! Who knew, a season ago, that those three horribly bitchy and shallow girls could have a sweet and heartfelt moment like this! Love me some character growth!
+ Dustin Goolsby! More more more! Make him a regular! "I hate my kids." & "Your kids are hideous. They look like they haven't been baked right." I'm not supposed to say this, but I almost hoped Will would go and have his awesome Broadway career and Dustin would come and coach the New Directions. Okay, you can shoot me. But he's refreshing and funny as hell. While Will is just kind of boring now.
+ Puck spontaniously hugging Will, aww!
+ Jesse! Whoo! He just rocks my world.
+ Best thing about the episode was they didn't win Nationals. Thank god. That would've been awful. Now we have something to look forward to next year. Maybe they actually give a worthy performance then...
+ My favourite scenes in the episode, part 2: Kurt and Blaine at the cafe. The 'I love you' that felt so wonderfully spontaneous and thus real, and Kurt's subtly bedazzled reaction. "Kurt Hummel has had a pretty good year." Can't argue that.
+ My favourite scenes in the episode, part 3: Brittany and Santana at the lockers. Brittany explains why she's good even though they lost as she compares the glee club to a family: they always fight but still love and support each other. World's biggest AWW. In Santana's words: When did you get so smart?
Music:
My Cup
: Quite funny and Brittany-licious. Especially
the full version
is wonderfull dirty.
I Love New York/New York, New York
: First I found it quite cathy but still just okay. Now I see it's began to grow on me a bit. I don't feel quite as indifferent towards it as I first did. And hell, it's New York they're talking about..
We Still Got Tonight
: Blah, Mr. Schue just doesn't do the thing for me anymore. And, as this was his own production, neither does Matt Morrison. Boohoo.
Bella Notte
: About time they did a Disney song! Even if not any of my favourites. It was ruined a bit by the stupid Finchel scene.
For Good
: Killer duet partnerts at work! The setting was lovely and it even fit the story. Still, not my favourite Broadway numbers.
Yeah!
: Hilarious combination of costume and coreography. I don't know if it was intended but I had a blast watching it anyway.
As Long As You're There
: Surely you could do better, Dustin! I mean, this and Boheamian Rhapsody...? Please. Ridiculous.
Pretending
: Forgettable. Boring. Lousy. Very
High School Musical
. Annoying in its mediocrity. And I just think it's uncharacteristic of Finn to write a song. Absolutely my least favouirite of all the more or less horrible original songs.
Light Up The World
: Could grow on me, I suppose, though hasn't yet. At least no more Finchel solos. Even Tina got to sing a bit. Brittany's bit is kind of cathy. Still, it feels like a cheap copy of Loser Like Me, which in itself wasn't nothing too spectacular, but at least it had an awesome performance and a story behind it.
Rest of my thoughts:
- The opening with Time Square and Rachel in the centre of it all, although nice, immediately felt so not like Glee. The feeling continued pretty much the whole way through the episode, until the return to McKinley. I guess, for me, Glee is Glee only when in Ohio.
- The appearance by Patti LuPone was nice, because in season one Rachel has a theory that she's her birth mother.
- Quinn's new haircut suits her, although now she looks even less like a 16-year-old.
- I cherish every moment of Santana's Spanish breakdowns.
- Samcedes! I guess this was inevitable after the little fling in Prom Queen, but I'm quite happy about it. It's a different issue whether or not something comes out of it in season three...
- The tiny trophy was cute. Number twelve, yay!
- Nice final scene and final image. Not as nice as last year though. But yeah, nothing was as nice as last year.
Next... Intend to write a wrap-up post about season two, plus list all my favourite songs of the season. They would've made more sense right after the end of the season, but what can you do, apparently I do have a life outside Glee after all...