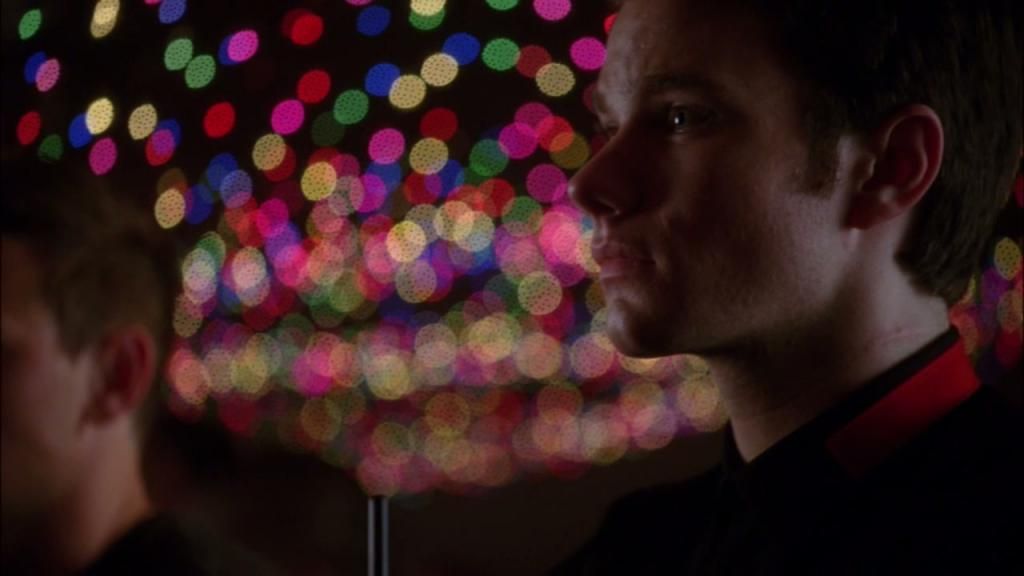 ... And it probably wasn't easy, for the Glee writers, to deal with the break-ups of three biggest fan favorite couples in one episode, and then brace themselves for the shitstorm as the all three fandoms of Finchel, Brittana and Klaine come after them for RUINING EVERTHING and taking the PURPOSE OUT OF THEIR LIVES. But they did well! I mean, the writers, don't know how the fandoms are holding up...
I should've written this post when I first saw the episode (the same night I returned from China, so tired and jetlagged; I know my priorities), because now all the FEELS that there were at the time were left unrecorded. But still, I've watched the episode many times, and it's still very, very good. One of the best in Glee history, definitely the saddest in Glee history. BUT still good! I'm allowing Glee to be sad and not-hopeful for once, because they did such a good job with it. Perhaps better than I could expect. I try to get some of those FEELS in this post, anyway.
What's up:
* Love is a battlefield and everyone's losing!
What I liked:
+ How a random girl slaps a random guy's butt in the beginning.
+ Finn called Kurt Little Brother.
+ Finn backpacked in Georgia for a month. Aww. (Maybe he went to Tybee Island! (Never mind...))
+ Brit and Santana's little laundry moment.
+ The Klaine phone call. Again, so real and awesome, even though it's not a sweet moment like the next phone call, a few episodes later. Also, I love the way Blaine says that he misses "messing around" with Kurt. And that comment about holding his breath. Aw, I want to hug Blaine. And we're only six minutes into the episode.
+ I like that Finn realizes so clearly that NYADA and New York are not for him.
+ Finn and Kurt's sad bro talk and bro hug in the morning-after. I want to hug Kurt too at this point!
+ Everyone welcoming Finn back. "Finn Hudson in the house, yo!" "Do you know who that is...?"
+ That Emma just didn't leave her life and her job and move to DC with Will. Go girl. (Although I like DC.)
+ Blaine's I'm Sorry note for Kurt. Aww. I mean, Blaine in a dog house? Aww. Kurt, you're tougher than stone.
+ If you like Virginia Woolf you are lesbian. Haha. I don't think I've ever read any of her books, so I don't know where this assumption derives from...
+ The Brittana break-up. I liked that it was less dramatic than Klaine's or Finchel's. They just kind of took it back a notch. Still, it was really sad.
+ Really kind of liked the official Finchel break-up scene, too. Because it ends in a break-up! Ha! No, but seriously, it was a really nicely written and acted scene.
+ I guess I liked Finn in this episode. I've actually liked him a lot more this season than last, or the second one. Or ever. Go Finn! Being broken up with Rachel is awesome for you!
+ Having been travelling around China before watching this ep, I had no idea what songs they would sing. And there really were a few very nice surprises, if you know what I mean.
What I didn't like:
- Rachel sleeps with her full night-out make-up mask on. Not good for the skin, woman!
- The whole Left Behind club thing. Just no, I don't what any of that in the middle of the episode while my Klaine is breaking up! Come on, Glee! (Kitty has some awesome quotes concerning the Left Behind thing, but I'm protesting and not including them in the post. That'll show them.)
- And well, all the other new generation stuff applies here, too. This is not the episode where I want to hear about Marley ja Jake. Oh yeah, and I didn't even realize that Jake and Kitty also broke up in the episode. I was too busy ignoring them while waiting for more Klaine.
- That Klaine didn't get an official break-up scene. Boo. Although, yeah, it fitted to leave it like this.
What I loved:
< 3 The break-up scene leading to Don't Speak. And sure, all the things leading to that, and what come after, too. It's just really solid stuff. How they deal with the all couples in this episode. Finchel and Klaine especially, since they get the most attention. (Although it's a bit weird and twisted, how closely the two relationships go together: like, they both had sex for the first time on the same night, and now they are breaking up, at the same time and the same place. Oh well. Great for the narrative.) It all seems relatively credible, and giving the writers an approval of this. Nicely handled!
< 3 Kurt's ugly cry. As always.


What is a bit strange:

I never was too broken up about the Klaine break-up. (Kleak-up? Um, ok no.) I mean, yeah, "why should you, they don't exist", right? But considering how passionately I've been following and feeling their story from day one, I should be like barricading myself in my room, refusing all my duties and eating chocolate. (Wait, I kind of do that. Probably not because of the Kleak-up, though. (Fine, I don't say Kleak-up anymore.)) Everyone saw this coming, and Darren and Chris had been saying for ages how they'd love to get some drama in the game. So I had time to prepare, and start liking the idea of a break-up, just because it makes good TV. It's brought us some awesome and emotional Klaine scenes, and no one is unhappy about those, right? And, for the love of Klaine, everyone knows they'll end up together before Glee is done. Someone would get Ryan Murphy assasinated if that didn't happen. So, I'm enjoying the ride, and Blaine's sad puppy eyes, and looking forward to Christmas.

(But... just so that I don't sound too sane: There is a small part of me that is furious that Blaine actually cheated all the way, so now Klaine will never be perfect again, and my god, how friggin' long will it take for them get back together? And they will, right? They definitely will? I really don't want anyone assasinated!)
Songs:
Barely Breathing. Th song is a bit forgettable, but I like the number anyway. Because it's so depressing and ominous and gloomy! Ooooh, and Blaine, what are you doing?! Poking random guys on Facebook? No one 'Pokes' on Facebook anymore!
Give Your Heart a Break. Baaaah. A really boring song. Skip-worthy. Finn's gloomy looks are the best thing about this number.
Teenage Dream. "I wanna sing a song that is really special to me. This is the song that I sang the first time I ever met the love of my life. So Kurt, this is for you." Need I say more? If you said yes, you can just read my mind, about whether or not I think this is perhaps the most moving and definitely the saddest musical performace in the history of Glee, and whether or not I want to build Darren Criss a shrine and officially worship him, and then give Blaine is big hug after patting Kurt in the back. The miracles that NOT-auto-tuning can do! Seriously. Sometimes I want to kiss Glee.
Don't Speak. I've been rewatching this a lot. Again and again. Not only because this song is just awesome. It's so great, the dynamics, like who moves where and what happens in the background now, and the split screen and all that. I know this will be really close to the top when I'm rewarding best musical numbers of the season. And everyone acts so well here. (It's fun compare their break-up faces in the bed part of the song. Like, Blaine and Rachel have those painful-looking frowns, and Finn is sort of pissed off, and Kurt just über sad and cute and beaten.)
Mine. I really like this! Sure, it's mostly because the brilliance that is Santana and Naya Rivera. Aw. In moments like this I'm really feeling Brittana!
The Scientist. Great! Everyone sounds great, together and apart (though Heather Morris just isn't a singer). I love how everyone just keep appearing there, one by one, and then they sing together, and oooh, the feelings! Oh god, and the FLASHBACKS. Though why did they choose that horrible slow-mo run scene for Klaine's flashback? Haha. And jeez, Finn and Rachel look so YOUNG!
Best quotes:
"I'm gonna take this down to the park and watch drug deals go down."
"Come on, Finn, they might even sing Don't Stop Believin'. Or something equally uplifting."
"I kind of feel like I'm gonna die."
"The wisdom of Solomon." Artie about Finn's Grease idea.
"The cutest."
"Sad songs make me really sad and I don't wanna be sad."
"You don't wanna break up with me, I'm like a bad Carrie Underwood song once I get going."
"No matter how rich, or famous, or successful I become, when it comes to you, I'm always gonna be that moon-eyed girl who freaked you out at your first Glee rehearsal."
Observation:
2x06: They meet. 3x05: They have sex. 4x04: They break up. Can we expect a marriage proposal or something in 5x03?